All About Trade-Ins | Wesley Chapel, FL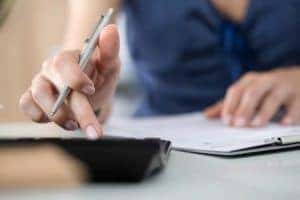 If you're shopping for a new vehicle, you may be wondering if it's possible to trade in your current vehicle to lower the overall cost of your new car. We've put together this guide to help you understand this process and what you can do to get the most out of your trade-in.
Benefits of Trading in Your Vehicle and How it Works
One of the top benefits of trading in your vehicle is that it helps lower the overall purchase cost of your new car. Your current vehicle has a certain value that's based on various factors. When you trade it in to our team at Kia of Wesley Chapel, we'll take that number out of the final cost of the new car you're considering. This could be thousands of dollars that you would be saving by trading in your vehicle. The factors that determine a vehicle's trade-in value include how well it's running, its overall appearance, and how desirable it is to potential buyers.
You may be familiar with various websites like Kelley Blue Book and Edmunds, which help you estimate your car's value. We offer a similar service at Kia of Wesley Chapel, called a market report. We'll look at the local market supply and local market demand to help determine your vehicle's estimated value and send it to you via email or phone. If you still owe money on your current vehicle through a loan, you can still trade it in! We'll simply deduct the remainder of your loan from the car's estimated value to get you the final number that you can use toward a new car.
Another benefit of trading in your vehicle to our dealership is that we make the process easy. When you opt to sell your vehicle privately, you have to file a ton of paperwork (which comes with additional fees) and try to find a stranger that will buy your car for what you are offering. This process could take weeks or even months, depending on what people are willing to pay for your vehicle. Here at Kia of Wesley Chapel, our goal is to help you get into your ideal new car and take care of everything else.
Ways to Increase Your Trade-In Car's Value
So now you may be wondering: How can I get the most money for my trade-in car? That definitely makes sense, as you'll be paying less for your new car with a high-value trade-in. To start, utilize those online tools like KBB and Edmunds.com to set a goal for your car. This will help you maintain a realistic expectation when it's time to trade it in. If your vehicle needs a lot of work, you will either get less money or need to use some elbow grease to make it more valuable.
Begin with an exterior walk-around of your car to note any visible wear and tear. This includes scrapes or scratches in the paint, any dents (big or small), foggy headlight covers, and rust spots. If possible, tend to those issues on your own; taking care of small dents and scratches could increase the overall value of your trade-in quite a bit. Depending on how much money it costs to repair other issues, it may not be worth it if you don't get that in return for your trade-in.
Next up is the interior. This should get just as much focus as the exterior, as a potential new driver will be spending a lot of time in the cabin. Clean the inside from top to bottom, working your way down to the carpeting and floor mats. This will help reduce any duplication of work from falling dirt or debris. Don't forget to clean the inside of the windows from any smudges, whether they're from sticky kid hands or dog tongues. Wipe down the dashboard, steering wheel, center console, and any touch screens with the appropriate solutions and fabrics. Be sure to take care of any stains on the seats and carpeting, and then finish those areas up with detailed vacuuming.
If you have any questions about the trade-in process or if you would like to take any of our vehicles for a test drive, feel free to contact our team at Kia of Wesley Chapel at 813-322-6169.