Buying vs. Leasing in Wesley Chapel, FL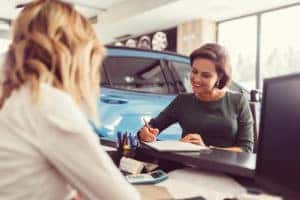 As you shop around for your first car in Wesley Chapel, Florida, you'll need to choose between the two main financing options: buying or leasing. Not sure which choice best meets your needs and matches your financial situation? Here's a guide to the benefits of both so you can decide whether to buy or lease your first Kia.
Reasons to Lease
Lower monthly payments: In general, you'll pay less per month when you lease a vehicle. That's because you're not paying for the whole cost — just depreciation over the course of the lease, plus leasing fees. It's a bit like renting a vehicle for a few years instead of a few days.
More car for your money: With leasing's lower costs, you might be able to afford a nicer, better-equipped vehicle compared to what you could buy. When you lease, you'll also find it easier to always be driving a newer car — just turn the old one in when the term is up and replace it with a brand-new leased model.
Reasons to Buy
Ownership and equity: Ownership is a key benefit that comes with buying a vehicle. Once you pay it off, it will be yours outright — plus, you'll no longer have to make a monthly payment. You can also sell or trade it in any time you like. When you buy, the payments you make also help to build equity, which means the vehicle is worth more than what you owe on it. You can use this equity to trade your vehicle in and pay less for a newer one.
More control: Vehicle lease contracts place restrictions on your yearly mileage, maintenance options, and vehicle modifications. When you buy, though, you can drive your car as far as you like and do whatever you want to it.
Deciding whether to buy or lease a Kia vehicle is an important decision. Here at Kia of Wesley Chapel, we'll walk you through your options and help you make the choice that's right for you.