Drive Your Kia to These Outdoorsy Destinations In and Near Wesley Chapel, FL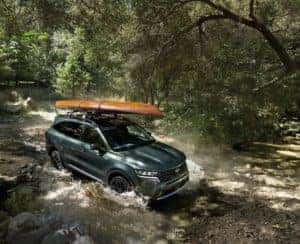 There are enough fun outdoor destinations in and near Wesley Chapel, Florida, to fill up the rest of your year with family-friendly adventures. Here are just some outdoorsy locations to drive your Kia to this summer.
Lower Hillsborough Wilderness Preserve: Bordering Wesley Chapel to the southeast, this sprawling preserve offers over 60 miles of hiking on forest trails full of native bird species and distinctly Floridian flora and fauna. Canoeing and fishing are allowed on the Hillsborough River.
Hillsborough River State Park: Adjacent to the Lower Hillsborough Wilderness Preserve is the Hillsborough River State Park, one of Florida's oldest state parks; it has been open since 1938. Class II rapids, camping, kayaking, tours of Fort Foster, a pool, a cafe, and more come together to make this state park an enjoyable experience for everyone in the family.
Ben T. Davis Beach: This Tampa Bay beach features attractive landscaping as it stretches along the Courtney Campbell Causeway, which connects Tampa to Clearwater. Drive your Kia there for a relaxing afternoon at the beach with family or friends.
Alafia River State Park: This former phosphate mine offers equestrian activities, biking and hiking trails, lakes, some of Florida's most drastic shifts in altitude, and an abundance of wildlife. The hilly topography of Alafia River State Park makes it a prime destination for mountain bikers and horseback enthusiasts. Canoeing and fishing is available at points along the river and on some lakes.
Holloway Park:This 362-acre recreational area and nature preserve boasts miles of elite grass running trails, a bird sanctuary, diverse wildlife, and an environmentally-conscious philosophy which helps keep Holloway Park so pristine. An emphasis on education is seen through the plentiful signs throughout the park which inform you about the park's plants and animals.
Green Swamp Wilderness Preserve: Whether you and your family want to experience a remote wilderness experience on Withlacoochee River, camp with grills, fire rings, and picnic tables or camp primitively, bike, fish, hunt, or hike, Green Swamp Wilderness Preserve just northeast of Wesley Chapel will keep your family entertained for days on end.
Picnic Island Beach Dog Park: If you want to take your dog along for a family getaway, consider Picnic Island Beach Dog Park in Tampa. Calm ocean waters, off-leash fun for dogs, and picnic tables are perfect for family gatherings. A beach volleyball court and a disc golf course provide recreational activities everyone can enjoy.
Richloam Wildlife Management Area: Just north of the Green Swamp Wilderness Preserve, Richloam is home to 58,000 acres of cypress swamp, oak hammocks, bottomland hardwoods, and more Florida plantlife. Animal-lovers, be sure to keep your eyes out for wild turkey, white-tailed deer, gopher tortoise, non-venomous water snakes, wild hogs, great blue and tricolored herons, and much more.
Seven Oaks Nature Trail: This Wesley Chapel nature preserve features a winding trail which will take you by ponds, parks, and playgrounds among other attractions. Seven Oaks Nature Trail is a relaxed, quiet area for families and children.
TreeHoppers Aerial Adventure Park: Take advantage of all the forested regions around Wesley Chapel at TreeHoppers Aerial Adventure Park, the largest zip line aerial adventure park in Central Florida. Fly between the trees or try to make your way through the challenging rope courses.
Honeymoon Island State Park: More than four miles of pure beaches are enough on their own to make Honeymoon Island State Park an appealing option for any family or group of friends. Honeymoon Island also offers a three-mile trail through a rare virgin slash pine forest. Keep eyes out for eagles, osprey, and great horned owls.
In need of a new Kia to transport you to and from these outdoorsy sites this summer? Stop by Kia of Wesley Chapel to browse our new inventory. Or call us to schedule a seasonal maintenance appointment for your current ride, to ensure that your warm-weather travels are as safe as they are delightful.