Understanding APR in Wesley Chapel, FL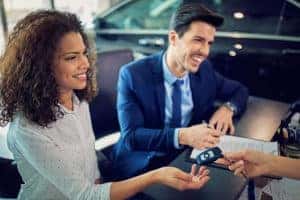 When you finance a vehicle, you'll have to consider its Annual Percentage Rate — commonly abbreviated as APR.  Here's a guide to getting the best deals and maximizing your savings.
Why APR matters
The APR is the cost of borrowing money. It includes account opening costs, credit fees, and interest. Therefore, when you have an auto financing plan with a lower APR, you'll pay less over the life of your loan.
Types of APR
APRs can be split into two broad categories — fixed and variable. Most loans come with a fixed rate, which stays the same throughout the course of your loan. A variable rate, on the other hand, is subject to change. It could drop lower and save you money, or it could rise higher and cost you more than you budgeted for.
Getting a good APR
Want the best value on your loan? If you have a good credit score, you'll be offered a lower APR when you apply for financing. You can improve your credit score by paying your bills on time, maintaining a low balance on your available lines of credit, and avoid opening new credit card accounts. Pay down your debts, when possible, and consider reviewing a copy of your credit report to make sure that it's complete and free from errors.
What if you have bad credit?
If your credit score is low, or you don't have much credit history, you don't have to be stuck with a high APR. When you secure financing through Kia of Wesley Chapel, we can help you get a better rate — and one that works for you.
If you're looking for a great deal on your next vehicle, shop with us at Kia of Wesley Chapel. Our financing department will help you get a payment plan that suits your lifestyle and budget.