AutoGuide Names Kia Carnival MPV the 2022 Family Vehicle of the Year
AutoGuide Names Kia Carnival MPV the 2022 Family Vehicle of the Year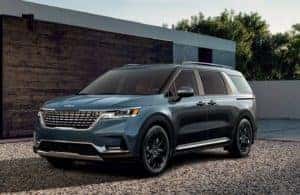 Keyword: Kia Carnival award
The all-new Kia Carnival has been making a statement ever since its debut. The boldly designed Multi-Purpose Vehicle is in its own segment, offering utility and safety to create the ideal family vehicle. In fact, AutoGuide recently named the Carnival MPV its 2022 Family Vehicle of the Year.
To determine the winners of the 2022 AutoGuide awards, a panel of seven editors tested and drove hundreds of vehicles from all segments. From there, a list of 40 finalists was created. The judges then looked at safety, spaciousness, user-friendliness, value, and more to name the winners. Among the various cars, trucks, and utility vehicles that were examined, the publication named just eight winners — including the Kia Carnival MPV.
"It's not just the cool, crossover-adjacent styling. Nor is it those first-class middle-row seats. The Kia Carnival MPV is such an impressive package because it blends that together with a smooth driving demeanor and lots of standard safety equipment. That it rings in as one of the most affordable in its segment solidifies it as the vehicle of choice for families. That's why we're happy to crown the Carnival MPV the AutoGuide 2022 'Family Vehicle of the Year,'" said AutoGuide editor Kyle Patrick.
If you would like to know more about the 2022 Kia Carnival MPV, feel free to contact our team or visit us at Kia of Wesley Chapel to set up a test drive.