Meet the Kia EV6 Crossover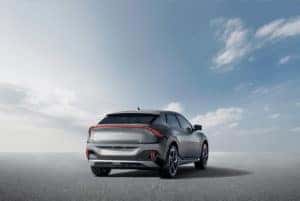 The 2022 Kia EV6 crossover is the automaker's first-ever dedicated battery electric vehicle (BEV). The EV6 marks the American debut of Kia's Plan S Strategy, which will bring 11 new fully-electric vehicles into the world by 2026. The 2022 Kia EV6 will be available at Kia of Wesley Chapel in early 2022.
If you're curious where the EV6 gets its name from, "EV6" represents the naming process for Kia's EV lineup. "EV" stands for "electric vehicle" and the number denotes the car's place in the Plan S lineup, starting with the EV6.
Ultra-fast DC charging is possible in the new EV6. Thanks to the world's first 800V multi-charging architecture, you can go from 10-80 percent charge in under 18 minutes. This allows for a driving range of 210 miles.
The crossover has an impressive range, as well. A world-class 77.4kWh high-density lithium-ion battery allows for a maximum driving range of 300 miles. That's more than enough for a trip from Wesley Chapel to Miami.
Kia has designed the EV6 with the fast acceleration you need for a thrilling drive. An output of 576 horsepower enables the crossover to go from 0-60 mph in less than 3.5 seconds.
The EV6 has no less than 21 standard active Advanced Driver Assistance Systems to ease your mind. These include semi-autonomous features like Highway Driving Assist 2.
Inside, the EV6 has a futuristic vibe, both in terms of cabin materials and advanced tech features. Recycled plastic is used heavily throughout the EV6's interior, further promoting an eco-conscious approach to driving. An Augmented Reality Head-Up Display projects a 3D image onto the windshield above the steering wheel so you stay informed without looking away from the road.
The 2022 Kia EV6 will be available at Kia of Wesley Chapel in early 2022. Stay tuned to our blog for more details on this exciting model. And stop by to test-drive our current crossover models, if you need a distraction from waiting for the EV6.